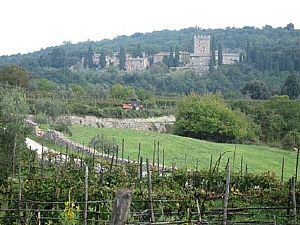 Details:
Group size is limited to 20 participants.
Cost: Villa double occupancy, $2,300
Fattoria double occupancy: $1,900
To reserve your place in the workshop mail a check for $400 made out to "Billyo" mail to:
Billyo, 3159 Byrnes Mill Rd, Eureka, MO 63025
• Art or Writing workshop instructions
• 2 nights at Hotel Boccaccio and welcome dinner
• 7 nights + 3 meals/day at Spannocchia (except
Sat.Dinner and any meals during field trips).
• Wine included with evening meals at Spannocchia.
• Mineral spirits, Canvases.
• Individual Membership for Spannocchia (required).
• Transportation to and from painting sites.
Oct. 24; Arrival night stay at Florence Hotel Boccaccio
+ welcome dinner at Tuscan Restaurant.
Oct. 25: 2:00 bus to Spannocchia, evening D/C/L (discussion/critique/lecture)
Oct. 26: Tour of Spannocchia morning. Bus tour to San Gimianno,
evening D/C/L.
Oct 27: Morning lessons, bus to San Galgano Abby ruins, evening D/C/L
Oct 28: Morning lessons, bus to Cortona, evening D/C/L
Oct 29: Morning lessons, No bus tour (Cooking class extra cost) evening D/C/L
Oct 30: Early bus to Seina city market, evening D/C/L
Oct 31: Evening Reception and Exhibition of student art and journaling works
at Spannocchia.
Nov 1: Morning bus to Florence, Hotel Boccaccio.
Nov 2: Departure from Florence.
In this Plein Air Painting and Writing Workshop at Spannocchia, you will have an opportunity to experience the magic of Tuscany in a setting that has inspired both painters and writers throughout the centuries.
Each morning will begin with painting demonstrations as well as writing discussions. Participants can choose which to attend. Participants will then paint or write on the grounds of Spannocchia. After lunch we will visit a nearby hilltop village where participants can paint or write. The group will then meet back at Spannocchia that evening for wine on the terrace. After dinner we will meet for a critique and discussion of the day's work. A bus and driver (included in cost) will provide transportation to and from painting/writing locations . You must bring your own easel brushes, palette and paints (oils or arcylics). Canvas, mineral spirits and carriers for wet paintings will be provided. For those interested in writing, plan to bring your own journal and pens.
Author Cathy Salter will lead discussions on: 1. The role and romance of travel in our lives. 2. Travel writing past and present--and travel films. 3. Capturing landscapes through daily journal writing. 4. Ways to use journals, photography and art as notes for your writing. (in small groups or one-on-one sessions)
In the spring of 2010, Cathy wrote the following before leaving to attend her first plein air painting workshop with Billyo at Spannocchia.
One should not expect to travel from mid-Missouri to a medieval castle in Tuscany without a few unanticipated detours along the way. The reward at the end of the journey comes with shedding the instant access mindset of the 21st century, exiting the fast lane, and allowing yourself to embrace a way of life born centuries ago.
Price includes: Art and writing instruction, demonstrations and lectures. Villa rooms at Spannocchia, based in double occupancy. Board, 3 meals a day and wine with dinner at Spannocchia (except Saturday evening). Ground transportation during workshop by bus. Art supplies--Mineral spirits, Canvases Individual Membership at Spannocchia
Cathy Salter is a newspaper columnist and art enthusiast. Her column "Notes From Boomerang Creek" appears weekly in the Boone County Journal and the Columbia Daily Tribune. Her article for National Geographic Magazine entitled Lewis and Clarks Lost Missouri appeared in the April 2002 issue. Cathy is the author of Notes From Breakfast Creek: A Look at the World (2008) observations drawn from her life and travels. She teaches Travel Writing classes for the University of Missouri Extension's Osher Lifelong Learning Program. Cathy and her husband Kit write and paint at their home in Missouri.
We want to inspire all through words and paint and encourage a crossing over of creativity:
Painting workshop contact Billyo E-mail: billyo@usmo.com
Writing workshop contact Cathy Salter E-mail: boomerangcreek@me.com